Syrinx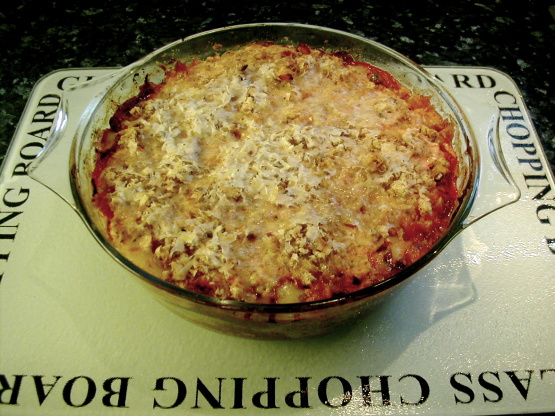 This casserole is so tasty!! The original recipe is out of the cookbook by La Leche League called Whole Foods For The Whole Family. I've adapted it to my liking.

Very good. I had to make a few changes because of what I had on hand. FIrst of all, I added in fried sage sausage and used tomato soup in place of tomato sauce. I did not have chopped tomatoes and did not add the spices with the exception of hte garlic, salt and pepper. I mixed everything together in one dish and microwaved since it's hot here. It still turned out very good.
Grease a 3 quart casserole dish.
Mix ricotta cheese, oregano, chives, garlic powder, salt and pepper. Set aside.
In order given, layer half of each: zucchini, onion, tomato, green pepper, tomato sauce, grated cheddar and ricotta mixture.
Repeat layers.
Top with crumbs and parmesan cheese.
Bake, covered, at 350 for 25 minutes. Uncover and bake 10 minutes longer.