Zippy Stir-Fried Baby Bok Choy
Parsley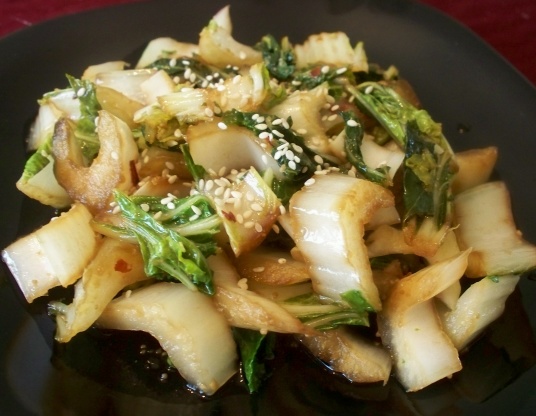 Easy to make, this side dish adds a colorful green vegetable to a meal and is a bit spicy and tangy. My DH loves it. If you choose to substitute fresh garlic and/or gingerroot, cook them in the hot oil before adding the cabbage. This side dish goes well with most Asian-spiced meats and poulty. Fried garlic (in jars) can be found at most Asian grocers, and imparts a bit of a roasted flavor to this dish.

A quick and tasty preparation for bok choy or any other cabbage. The amount of red pepper is definitely on the hot side - if you're not looking for spicy, you might start with a smaller amount.
Mix well first seven seasoning ingredients in small glass dish; set aside.
Heat oil in wok or large skillet over medium-high setting; add cabbage and stir fry until done but not soggy (a little crisp).
Reduce heat to low, stir in seasoning mix well, and cover; allow flavors to meld for 1-2 minutes.
Optional: add sesame seeds or cashews before serving.