Yummy Cream Cheese Spread
I love this recipe because it is simple, not much to clean up and is really good. You need to spread it on crackers until it gets softer, so if you want to "dip" something in it, leave it come to room temperature first.
Directions
Open cream cheese box carefully. You need to save the box to mold the mix when done.
Mix the dill, garlic powder, salt and pepper with the softened cream cheese until well mixed. Mold back into the saved cream cheese box and chill until firm. Unmold it. Take 2 green onion tops and wrap the block like a present and the 3rd one to tie into a bow, if you can. Dot the outside with whatever you choose--red or green peppers or pimientos. Place your choice of crackers around the edge of the plate. I guessed on the prep time. Depends on what you choose to decorate the block with. You can leave it plain if you wish. Chill time is just about right for most refrigerators.
Most Helpful
This was a nice blend of seasonings in which nothing really overpowered. It was a little messy to work with - I got it back in the box but unmolding it was not as clean as I had hoped. Still, it's an easy spread to whip up and seems to be liked by everybody. Thanks for sharing! Made for Spring PAC 2013.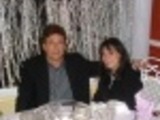 SPRING 2008 PAC RECIPE: Wow Chef Bronco, this one is really great. The exact combination of the seasonings and the onions and peppers really made this into a nice spread for crackers and on toasted baguette. I molded it into a small bundt pan shape for a get together we were having and it was devoured while everyone was waiting on the crawfish to boil. Several people asked for the recipe which I was glad to provide them a copy of. Definite winner!