Swirling F.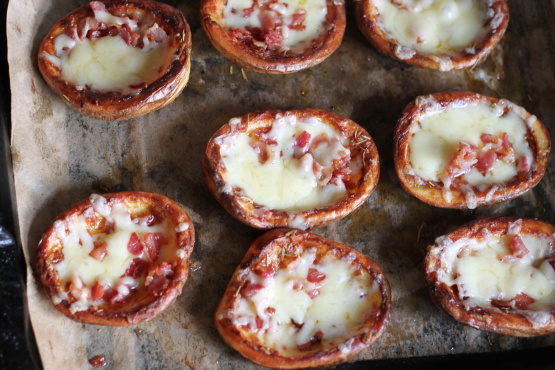 These are easy and yummy seasoned potato skins filled with bacon and cheese!

My friends, this recipe is A-plus and two thumbs up! The skins came out absolutely perfect - better than a restaurant. I think they are so good because of the seasoned oil you brush on before baking, so don't skip that step. We doubled the recipe and served with store-bought Ranch dressing. I highly recommend this recipe! I posted a picture too.
Cut potatoes in half lengthwise; scoop out pulp and discard (or save for another use) leaving 1/4-inch shell.
Place on a greased baking sheet.
Combine oil, Parmesan cheese, salt, garlic powder, paprika and pepper and brush all over potato skins.
Bake at 475° for about 8 minutes and turn over.
Bake for another 8 minutes or so and then turn right side up.
Sprinkle bacon and cheddar evenly inside of skins.
Bake 2 minutes longer or until cheese is melted.
Top with sour cream and onions, if desired.