Yummy and Pretty Healthy Breakfast Bagel Sandwich
mlao77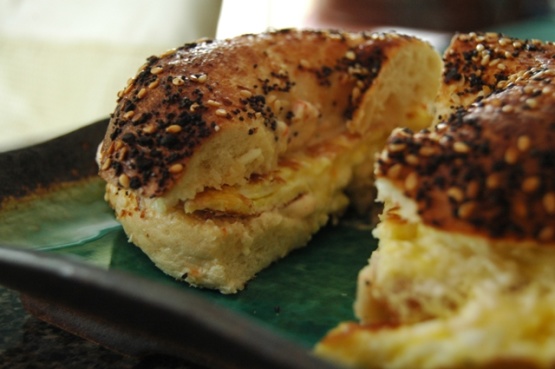 Just whipped this up and it was so good I had to share it! The measurements are approximate as I did not measure anything. Use what looks good to you.

Made this using 2 large eggs & 3 egg whites, then reduced the mushrooms by half! That still made nicely satisfying bagel sandwiches for the 2 of us! Not something we'd have more than a couple of times a month, but still a nice change of pace for our breakfast! [Made & reviewed in Healthy Choices ABC recipe tag]
Slice and pan fry mushrooms.
In a bowl, beat the eggs and then add the feta cheese, mushrooms, and garlic and mix well. Put this mixture in a preheated, greased small skillet. You want to use a small skillet, like an omlette skillet so the mixture cooks thick. Cover and let cook on medium to medium-high heat.
Meanwhile, cut your bagels and toast them. Add cream cheese to your liking.
Check on the eggs. The egg mixture is pretty thick, so I've found I've needed to lift the edges to let the runny stuff flow underneath to make sure the entire thing cooks through. Once the bottom side starts getting brown, use a spatual and flip the entire thing over. You may need to use two spatulas, but I was able to flip mine with little difficulty. Cover and cook the other side.
Once egg mixture is fully cooked, remove from skillet and cut in pieces. Place stategically on bagels and cut in half. Serve while warm. Enjoy!