ChefDLH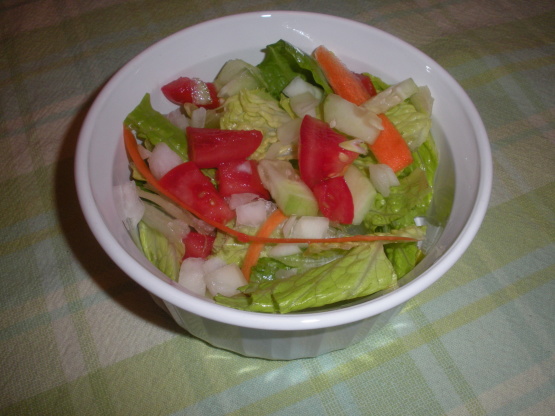 This is Rachael Ray's recipe and pretty much the salad I grew up on coming from an Italian family. The portions can be increased for larger groups. I love this simple and healthy salad. It is a perfect salad to serve with Italian food!

Thanks for posting this Rachael Ray salad Little Bee. Very nice. We enjoyed it very much. The dressing was basic but nice and light. I would mix it ahead let chill and shake again next time to meld the flavors for longer. Made as written for some hungry men. Thumbs up all around. Enjoy! ChefDLH
Place salad greens in a salad bowl and top with tomatoes, cucumbers, onion, and carrot. Place oil, vinegar and sugar in a small plastic container. Put the lid on the container and shake dressing until sugar dissolves, about 1 minute. Pour dressing over salad. Season salad with salt and pepper, to taste.