Ww Core - Bubbling Pizza Casserole
KateL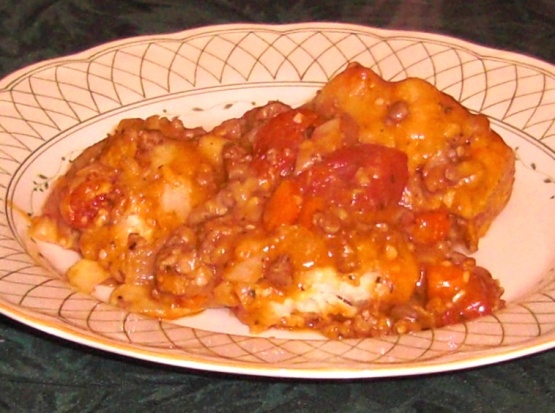 This delicous Weight Watcher core program recipe counts as 4 point per serving to the the core member. You can really add any vegetables to taste to this recipe.

This didn't work well for us but I'm not going to actually rate it because I think some of it was my fault. The main problem for us was the bread to sauce ratio. I couldn't locate a 16oz can of biscuits. The closest I came was the store brand which was 7.5oz per can. The name brand bicuits did not have 8 biscuits per can and I think I may have taken that part of the ingredient list too seriously. I went with 2 cans of the store brand and I think that's where I went wrong. There wasn't enough sauce for the bread and the taste of the biscuits were not very good. I'm from the South and make my own biscuits and to be honest...I can't believe those canned things have the nerve to call themselves biscuits! I know plenty of people that eat the Grands! biscuits and like them, so I'm keeping an open mind about the name brand biscuits, lol. I would recommend one can of a name brand for this recipe. Thanks for sharing!
Preheat oven to 350.
In skillet, brown meat over medium heat, stirring to crumble.
Stir in onion, tomato sauce, basil, garlic, and Italian seasoning.
Add veggies
Add quartered biscuit dough to the pan of sauce & meat; stir gently until biscuits are covered with sauce.
Spray a 9 x 13" casserole dish with cooking spray. Dump the mixture into the dish.
Bake for 25 minutes.
Sprinkle with cheese, and bake an additional 10 minutes or until biscuits are done.
Let stand 5 minutes before serving.