punkyluv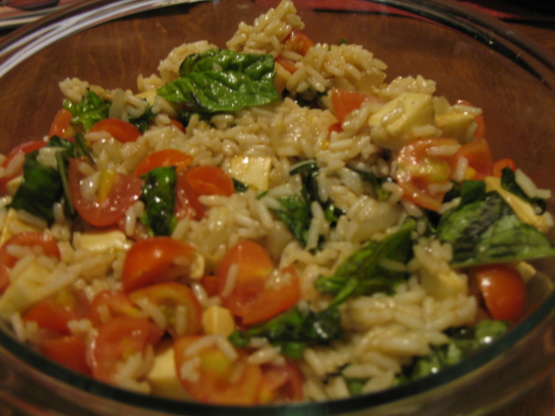 WW used jasmine rice, which gives a slightly "flowery" flavour to this Italian-inspired dish. But it can be made with other exotic varieties of rice as well, such as basmati. 4 pts per serving, from weight watchers.
I enjoyed this, although the basil was a little overpowering. The taste was good so i think i just wouldnt use as much basil. I was the only one who ate this but if i were to make it for hubby or anyone else i think i would add sliced black olives and maybe only use the basil to garnish with.. thank you for sharing!
In a large serving bowl, mix together 2 tablespoons olive oil with the vinegar, basil, tomatoes, mozzarella, salt and pepper. Set aside while rice cooks.
Heat remaining teaspoon of olive oil in a medium saucepan over medium heat. Add onion and cook until softened, about 3 minutes. Add rice and ¾ pint water. Bring to the boil, cover and simmer until water is absorbed and rice is tender, about 15 - 20 minutes.
Toss rice with tomato mixture; serve warm or at room temperature.