Wok or Skillet Asian-Style Fresh Green Beans
PaulaG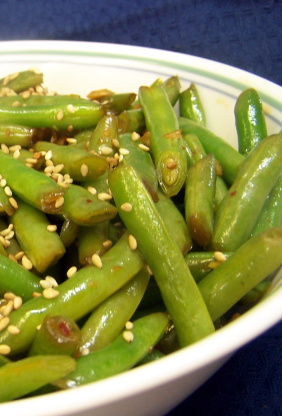 To save some time cook the green beans ahead, place in a zippered plastic bag and refrigerate until ready to use. Make certain to pat the green beans dry using a paper towel before sautéing them. If you like spicy like my family does add in 1-2 teaspoons dried chili flakes when sautéing the garlic. Just to let you know, I tried this recipe using Green Giant brand frozen whole beans and it was not as successful as using the fresh beans. Prep time does not include boiling the beans. This is a really great recipe for fresh summer green beans!

This was fantastic. Better than any similar green bean dish I've ordered in Chinese restaurants. Easy and delicious.
Cook the green beans in a pot of boiling salted water until JUST crisp-tender (about 3 minutes) plunge into an ice water bath to cool completely.
Drain well and pat the beans dry using paper towels.
Heat sesame oil in a wok or large skillet over high heat; add in garlic and chili flakes (if using) stir-fry 1 minute.
Add in beans and stir-fry for about 2 minutes.
Add in soy sauce, rice vinegar, brown sugar and black pepper; cook until the sauce reduces slightly and coats the beans (about 1-1/2-2 minutes longer).
If you want a thick sauce mix a small amount of cornstarch with a small amount of cold water and add in towards the end.
Add in the almonds or sesame seeds; toss to coat and transfer to a bowl.