lazyme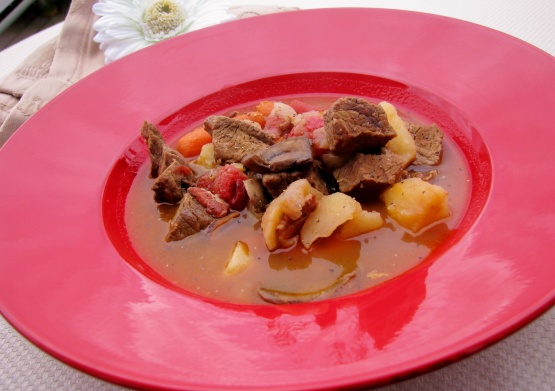 This calls for marinating the meat instead of the browning process. Saves time, but feel free to use preference. Passive time includes marinating.

Very enjoyable. I did halve the mushrooms, and other than that made as directed. The Italian dressing added a nice, different, but wonderful flavor to this. Had a side ready to go, but this definately is a meal for a family of 4, that can be served by itself. Tagged and made for PRMR~Tag.
Trim excess fat from meat and cut into even 1 inch chunks.
Place dressing and beef in large ziplock bag.
Refrigerate 30 minutes.
Cook bacon in large pot on medium heat 5 minutes until crisp.
Remove bacon from pot using slotted spoon.
Discard excess bacon fat.
Add onion and mushrooms to pot.
Cook over medium heat 10 minutes.
Remove beef from marinade.
Discard marinade.
Add beef, carrots, potatoes, tomatoes with liquid, broth and bacon to pot.
Bring to a boil, stirring constantly.
Reduce heat to low.
Cover and simmer 1 1/4 hours.
Uncover.
Continue to simmer for 15 minutes or until meat is tender and sauce is thickened, stirring constantly.