RITBlake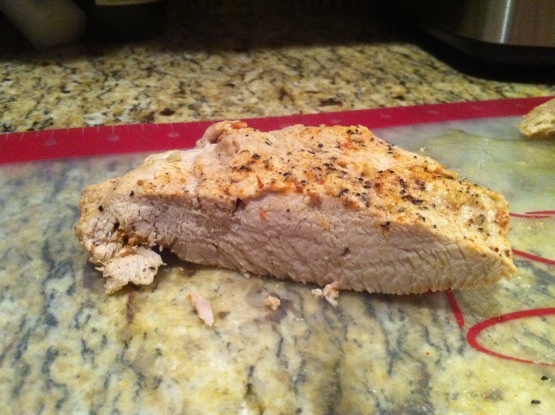 My husband, FIL, and son go wild turkey hunting. I never have liked the taste of it until my FIL gave me this recipe. My girls thought it was pork loin.

This was SOOO great! I found it last minute and was only able to marinate the breast for about two hours, but it still turned out fabulous! What an simple and great way to fix wild turkey breast! Thanks so much for posting! Delicious!!!
1

wild turkey breast half

8

ounces zesty Italian salad dressing

8

ounces white wine

1

small reynolds oven cooking bag
creole seasoning
1⁄2 cup butter
2⁄3 cup olive oil
Mix the dressing and wine.
Pour into a 1 gallon size zip-lock bag.
Add the turkey breast and marinate overnight, turning at least once.
Drain off the marinade & discard.
Sprinkle turkey breast with the seasonings.
Place in oven roasting bag.
Melt the butter in the olive oil and add to the turkey breast.
Place the roasting bag & turkey breast in a 9"x5" loaf pan.
Bake at 350 degrees for 1 1/2 hours.