Prep 1 hr 30 mins
Cook 0 mins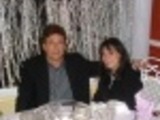 There are hints of an elegant French potage in this creamy bisque, which is nice served with some cheese biscuits and a salad.
Directions
Soak dried mushrooms in warm water until softened, 20 to 30 minutes.
Drain mushrooms, reserving soaking liquid. Rinse mushrooms and squeeze dry. Chop coarsely, discarding any tough stems. Strain soaking liquid through coffee fileter and reserve.
Melt butter in heavy large saucepan over medium heat. Add shallots and cook until soft, stirring occasionally, about 3 minutes. Add dried and fresh mushrooms, salt and nutmeg. Cook until almost most of liquid evaporates, stirring occasionally, 6 to 8 minutes. Add flour and stir 3 minutes. Whisk in stock and 2-1/2 cups mushrooms soakig liquid. Bring to boil, whisking constantly. Reduce heat and boil gently until soup thickens slightly, skimming surface occasionally, 40 minutes.
Whisk 1/2 cup cream into soup. Simmer 5 minutes; degrease if necessary. If desired, thin soup with any remaining mushroom soaking liquid and more cream. Season with salt and pepper. Sprinkle with chives and serve.
Most Helpful
Absolute mushroom heaven. I had to change up the mushrooms a bit. The dried mushrooms are just was to expensive right now and they only had a mixed mushroom package. I skipped the shallots for the same reason and used red onion I used a mixture of button and cremini and shitake mushrooms and used just plain water instead of mushroom water. This still turned out YUMMMMMMY. It was thick and creamy . This was my first time making mushroom soup and is going in the Divine recipes book. We had a small portion as an appetizer so there is lots of leftovers for ME LOL Made for PRMR Feb 2009

As a mushroom soup, this was alright. Not outstanding, unfortunately, but pretty good. Although I made as written, it didn't really thicken up, so I served a very thin, but fairly tasty soup. I added a teaspoon of Worcestershire sauce and a teaspoon of MSG, to try and amp up the savory profile, but it still just had a whole lot of bland in it. I must have done something wrong, but I can't figure out what it was. I'll try again another day, and update my review with whatever I figure out.

I had never made any kind of bisque or mushroom soup before, but this was absolutely great! Prep and cleanup were super easy peasy, which is important for me as a grad student. But most importantly, it was DELICIOUS! I didn't have nutmeg or shallots, or even onions, so I tossed in some onion powder (yeah) and a bay leaf, but it still turned out sooooo good. I almost ate all of it in a single day... the only reason I didn't is because I didn't start until dinner! At any rate, if this recipe really makes 6 servings, I had 5 servings in one night :D

Thanks so much for sharing!