Tisme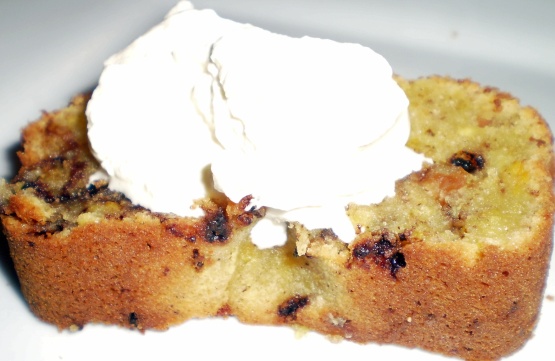 So quick and easy. The orange is used with the skin on. I add chocolate chips and nuts to this recipe, so have listed the variation as an option. I suppose you could use any nuts realy or even some dried fruit. This is a very moist cake, so I serve it warm with cream, but it can be served cold with a citrus icing.

Made this yesterday. I still have not located my food processor since we moved, so I decided to make the batter in my Vita-Mix blender. I added the orange, flour, and melted butter to the blender and started processing it on high. I then added the egg. I made the mistake of not blending the orange by itself first which would have added a bit more liquid to blend the batter, which caused the ingredients to heat up in the container. My chocolate chips melted in the batter as I attempted to chop them. I poured half the batter into my baking pan then sprinkled chopped pecans over the top before adding the remainder of the batter. I then popped it into the oven and sat back as the wonderful smell filled my kitchen. A little more then 1/2 way through the baking, I realized that I had forgot to add the sugar to the batter. I was so afraid the cake would not turn out...however; it baked up beautifully! Of course my cake was not very sweet but no one in the family seemed to miss the sweetness. I sliced the cake warm and spread it with a little butter and dusted each slice with a pinch of powdered sugar. I will definitely make this again and soon....only next time, I will add the sugar.

Update: Made this again tonight. This time I added the sugar and left the dark chocolate chips whole so that they did not melt completely into my cake batter. Just before I poured the batter into my pan I remembered I had some cranberries in the freezer. I stirred roughly a cup of berries into the batter and then baked as directed.
Wash and dry the orange.
Cut the orange into quarters and remove the pips.
Place the first 5 ingredients into a food processor and blend until smooth.
If using the optional ingredients, wait until the mix is well blended, and add the choc chips only, blend chips until just chopped. After blending choc chips, stir in the nuts if using.
Pour mix into a greased and lined 20cm baking tin and bake at 180dg for 50 minutes.
Serve warm with cream, or let cake cool and ice.