White Chocolate Macaroons
Karen..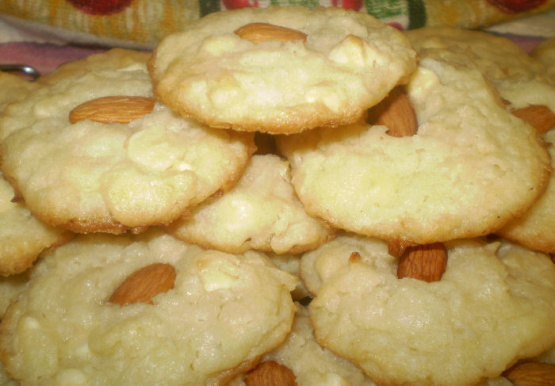 A quick coconut cookie made with refrigerated sugar cookie dough.

Absolutely outstanding! You would NEVER know these started out with refrigerated cookie dough. I doubled the recipe and topped half with cherries and half with almonds. I needed a couple more minutes bake time, but that was probably due to me using a cookie scoop and a convection oven (I got 65 nice sized cookies out of the double batch). I plan on making many, many more of these to put on my personal and business holiday assortments. Thanks so much for posting these! (P.S. They are very sweet...just a warning for those who don't like that type of cookie...or you could leave out the chips, I guess! ;))
Heat oven to 350°F
Lightly grease cookie sheets or spray with cooking spray.
In large bowl, break up cookie dough. Stir or knead in all remaining ingredients until well blended.
On cookie sheets, drop dough by Tablespoonfuls 2 inches apart.
Bake 10 to 12 minutes or until edges are golden brown.
Remove from oven and place 1/2 of cherry into middle of cookie.
Cool 2 minutes; remove from cookie sheets to cooling racks.