White Asparagus With Chanterelles
Bergy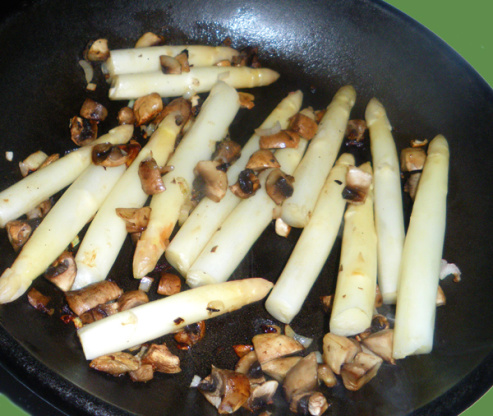 Sometimes simplicity is best. This is a wonderful spring dish.

What's in a name? I couldn't find any white asparagus, so I used some fresh green stalks. No one has heard of a chanterelle in this country outside of culinary school, so I used a mix of wild and champignon. Shallots are also hard to come by, so I used half an onion. In spite of all these substitutions, this was totally yummy! The recipe is for 4, and the two of us only managed to eat half of it, so I had the rest this morning in an omelette, it's a fantastic filling. With a fresh glass of juice and the morning paper, the day could not start out any better!
boil asparagus on stovetop for 5 minutes, or microwave for 1 minute.
in large saute pan melt 3 tbsp butter.
add shallots, saute 2 minutes.
add mushrooms, saute 3 minutes.
melt in additional butter, add asparagus, toss to coat.
sprinkle with lemon juice, season to taste with s&p, serve.