Weight Watchers Pumpkin Flan
PaulaG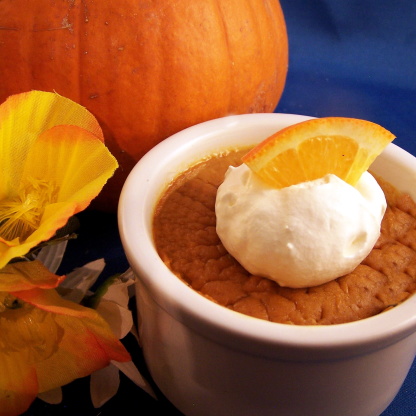 Well I finally got around to making this delicious dessert and it is truly wonderful. This makes a fall dessert that can enjoyed without the added guilt.

This turned out really good! I made a double recipe in a 12x8 pan and needed to cook for well over an hour. Also omitted the cayenne. We ate it tonight while still warm and I'm thinking it will be even better tomorrow cold. Thanks for posting!
Preheat oven to 350 degrees.
Stir together the sugar, cinnamon, cloves, cayenne and salt in a large bowl.
Whisk in the pumpkin, milk orange juice and egg substitute; divide among eight 6-oz custard cups.
Place the filled custard cups in a high-rimmed roasting pan and pour boiling water around them to a depth of 1 inch.
Bake until firm around the edges and slightly puffed, approximately 45 minutes.
Carefully remove cups from water, cool completely, cover and refrigerate.
Before serving, top each serving with a tablespoon of whipped topping and an orange wedge.