Warm Potato Salad With Sweet Chili Sour Cream
Jostlori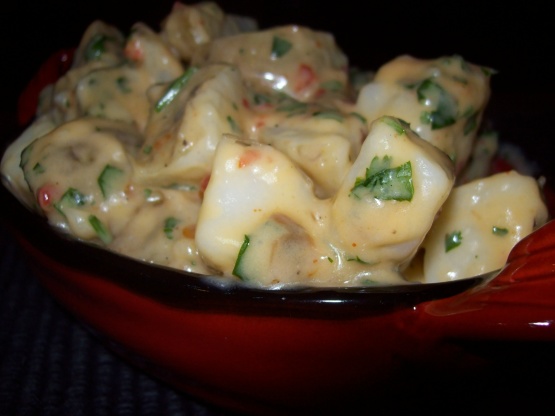 This is absolutely delicious. So good, in fact, that I've made it twice in one week! The first time, we made it exactly as written. The second time we were in a hurry, so just cut the potatoes in chunks, boiled them and cooled them just a little. I mixed all the rest of the ingredients (except green onions, we were out) and tossed with the room temp potatoes. My gosh, it is still delicious!!! And easy... Oh, and we go a bit heavier with the sweet chili sauce. Yum.
Preheat oven to 200°C.
In a large bowl, toss the potatoes in the oil and salt and pepper to taste.
Place the potatoes on a baking sheet and oven bake for about 40 minutes or until tender and golden. Turn a couple of times.
Transfer to a large bowl.
Combine sour cream, chili sauce and green onions: pour over the potatoes and toss gently to coat.
Arrange on a serving platter and sprinkle with fresh coriander and sesame seeds.