Warm Fudge-Filled Cheesecake
Brenda.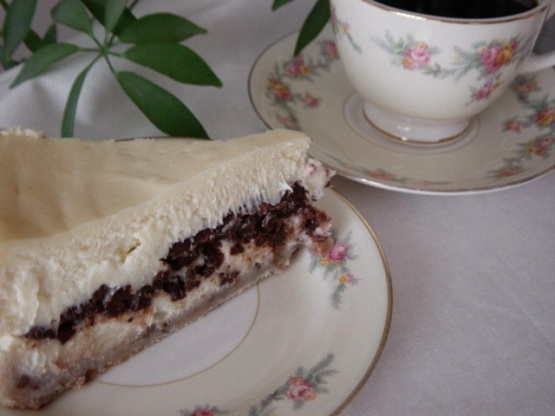 From Southern Living, January 1998. Warm leftover cheesecake slices in the microwave 30 seconds before serving. My husband says this is the best cheesecake I have ever made.

This is so decadent and wonderful! I had planned on having only 1 slice, warm, after letting cool for one 1 hour as suggested. Well Juenessa, I then saw your re-heat directions and thought the only way to fairly review this recipe was to try a slice that had been refrigerated and warmed for 15 seconds in the microwave as well :). This cheesecake is so chocolately and creamy, and the crust..... Just delicious! Thanks so much for sharing, this will be a special occasion cheesescake. Nick's Mom
Beat butter at medium speed with an electric mixer until creamy; add 1/3 cup sugar, beating well.
Gradually add flour, beating at low speed until blended.
Stir in 1 teaspoon vanilla and pistachios.
Press into bottom and 1 1/2 inches up sides of a 9-inch springform pan.
Bake at 350° for 12 to 15 minutes or until golden.
Cool on a wire rack.
Beat cream cheese at medium speed with an electric mixer until light and fluffy; gradually add 1 1/2 cups sugar, beating well.
Add eggs, 1 at a time, beating just until yellow disappears.
Stir in remaining 2 teaspoons vanilla. (Do not overmix.).
Pour half of batter into crust; sprinkle with chocolate morsels to within 3/4 inch of edge.
Pour in remaining batter, starting at outer edge and working toward center.
Place cheesecake on a baking sheet.
Bake at 350° for 1 hour or until set.
Cool on a wire rack 1 hour.
Serve slightly warm with sweetened whipped cream, if desired.
Garnish, if desired.