Warm Berry Topping for Ice Cream
CandyTX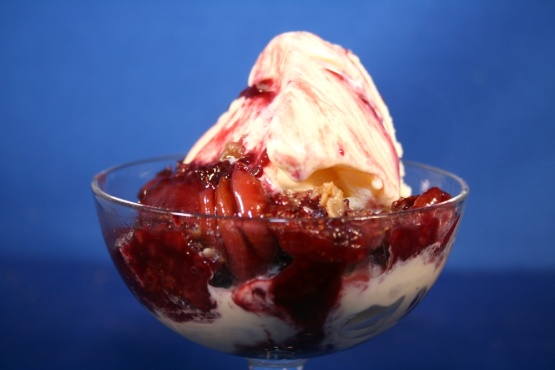 This is the perfect recipe for a crowd. If you having a simple dinner party and want a simple dessert, dress up your ice cream with this warm, rich berry topping. Delicious!

4 stars. This was very yummy, served this with vanilla bean ice cream after a light chicken meal (RSC too) and it was met with happy faces and ended with emply plates! The strawberries and pecans really melded well with the sauce, I think next time I might add some fresh nectarine slices??? It really lends for substitution for fruit that is in season, so this recipe will be well used.
Preheat oven to 375°F.
Lightly grease a 8x8 baking dish.
Add sliced strawberries and pecan halves.
In a medium sauce pan, simmer Raspberry Preserves, Honey, Key Lime Juice, and 1/2 cup sugar for 5 minutes over medium heat.
Pour Raspberry preserve mixture over strawberries and pecans.
Mix until evenly blended.
In a separe bowl mix together butter, oatmeal, and brown sugar. Spread evenly over strawberry mixture.
Bake for 45 minutes.