Walnut Crusted Trout Fillets
gailanng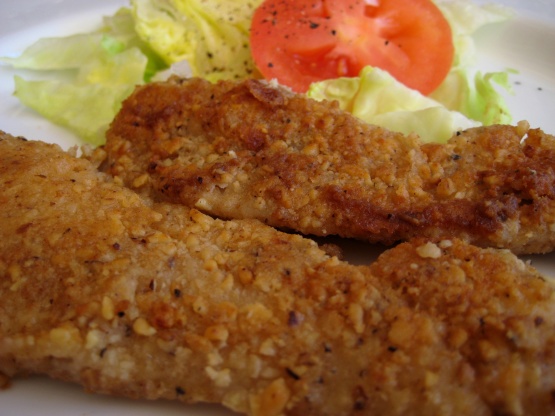 Looking for a new way to prepare your trout? Look no further! This wonderful recipe comes from the Greunke's First Street Inn Restaurant and Bon Appetite.
Using fork, stir flour, sage, salt and pepper on large plate to blend.
Whisk eggs in medium bowl.
Place walnuts on another large plate.
Sprinkle trout fillets with salt and pepper.
Dredge trout in flour mixture, then dip in eggs to coat.
Press both sides of trout in walnuts to coat.
Melt 1 TBS butter with 1 TBS oil in each of 2 heavy large skillets over medium heat.
Add 2 trout fillets to each skillet.
Cook until coating is lightly browned and trout are cooked through, about 5 minutes per side.
Transfer trout to plates.
Squeeze 1 lemon wedge over each fillet, sprinkle with parsley, and serve.
Serves 4.