Walnut-Cream Cheese Finger Sandwiches
twissis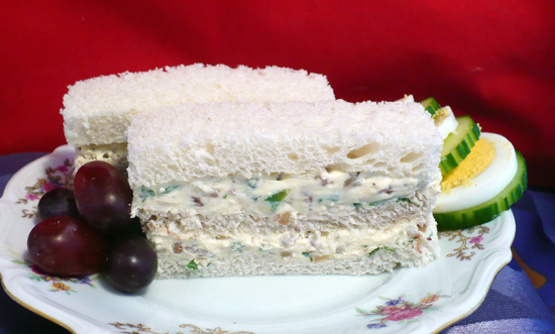 These sound good. Recipe is from Taste of Home.

These little sammies are yummy. For such an easy-fix w/simple ingredients, they have a great flavor & I love the texture the onion, bell pepper + nuts add. I did have to use pecans when I found myself w/o walnuts. For those who follow me, DO NOT omit the nutmeg! It adds a dimension to the flavor that is hard to define. You know there is something spec in the mix, but you are just not sure what it is. It works best to chill them after assembly to firm up the cream cheese & make slicing easier. Thx for sharing your recipe w/us, Lainey. :-)
In small mixing bowl, beat the cream cheese, walnuts, parsley, onion, green pepper, lemon juice, nutmeg, salt and pepper until blended.
Spread about 2 T over each of 12 bread slices; top with remaining bread.
Cut each sandwich into three 1-inch-wide strips.