Leslie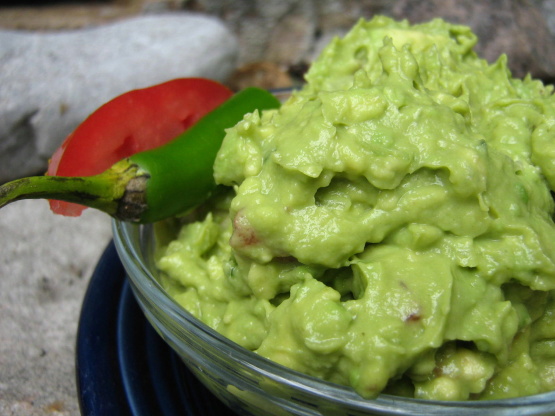 There are so many recipes for Guacamole... I searched and didn't see any like my own. Using serrano peppers, white onion and garlic powder makes my recipe a tad different with a Huge taste!

Top Review by Leslie
This is one amazing guac! I used the serrano peppers we brought home from California in this recipe, so it felt very authentic LOL! The only thing I did differently was to mince the onions in a food processor, as I have a texture issue with onions, but otherwise made a directed. Fabulous!! This is now my go-to recipe for guacamole, thanks V! :)
Cut avocado and remove from skin. Place in a bowl and drizzle lime juice to prevent from browning.
Mash avocados with a fork.
Chop tomatos, onions, pepper and add to avocados and mix.
add salt, pepper and garlic powder.
Taste, add more salt or garlic powder depending on taste.
Serve with Corn Tortilla chips.
Enjoy with your Favorite people!