Versatile Vegetarian Sponge Cake
katia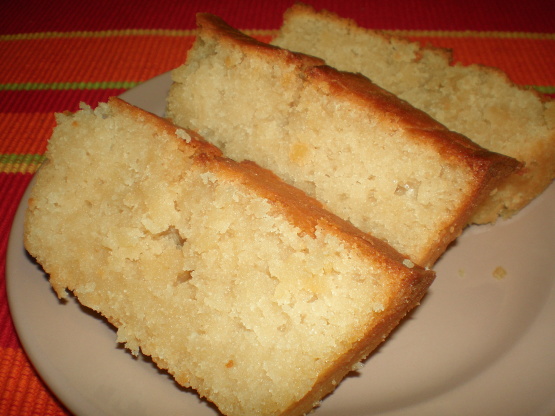 A light and moist sponge cake which can be adapted by adding flavourings and frostings of your choice, I like to use fresh cream as a topping.

Top Review by katia
I halfed the recipe and maybe I didn't get the measurements right but the cake after 50 minutes of baking was still a little "soggy" at the bottom. I used melted margarine instead of oil. I 'll make it again exactly like the recipe said. The top of the cake though was very tasty! Thanks for posting! I made it for PAC Spring 08.
Preheat oven to 180 degrees celcius.
Sift ingredients 1 to 5 together.
Mix all liquids together and add gradually to dry ingredients while continuously whisking. Whisk well.
Spray rectangular Pyrex dish with nonstick spray.
I use a 23cm square pan 4cm high. Pour batter into dish and bake till skewer comes out clean from cake.
Cool and frost.
Tip:.
For frosting, I whip 250 ml of cream with.
2 tablespoons of icing sugar and spread this over the cooled cake. If I added strawberry essence in the batter, I will put a few blobs of strawberry jam on the frosting.
Cooks Note: After reading a review from someone, I think perhaps they went for a high cake. Aim for a flatter rather than high cake. So your pyrex or roasting pan should be flatter rather than deeper or higher. Eggless cakes fare poorly when you try to bake them in deep/high dishes instead of flat, as they dont have eggs to help them rise. This could lead to rawness in the centre, whereas a flatter cake would cook evenly.