dmsj7045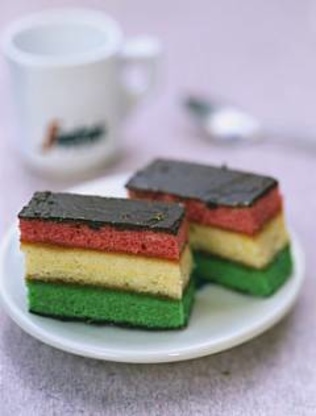 These elegant 3 layer, 3 color cookies are so easy to make. The flavor is European, rich & decadent, serve these with coffee or tea. Kids like them, moms LOVE them. Don't let the long instructions scare you off. If you don't have 3 jelly-roll pans, you can still make this recipe. Just bake layers 1 at a time and be sure to let the pan cool completely before reusing for the next layer.

These cookies came out wonderfully. They are very moist with a great almond taste. They take a little effort- but are definitely worth it. They taste just like they came from the Italian bakery. I used apricot preserves on one layer and raspberry preserves (warmed and strained) on the other. The tastes blend very nicely. This cookie is great for cookie exchanges too, as they make a pretty decent amount.
4

large eggs, separated, at room temperature

1

cup sugar, divided

1

(7 -8 ounce) container almond paste

1

teaspoon almond extract (essence)

2

cups all-purpose flour
1⁄4 teaspoon salt
red food coloring
green food coloring

1

(12 ounce) jar apricot preserves, warmed and strained

6

ounces semisweet chocolate or 6 ounces white chocolate
Preheat oven to 350 degrees F. Grease three 15 1/2" x 10 1/2" jelly-roll pans; line pans with waxed paper, allow waxed paper to extend over ends of pans. Grease and flour waxed paper.
Beat egg whites with 1/2 cup sugar until stiff peaks form; set aside.
In large bowl with same beaters (no need to wash them), with mixer at low speed, beat almond paste and remaining 1/2 cup sugar until it forms small lumps.
Beat in margarine or butter until blended. Beat in egg yolks and almond extract. Reduce speed to low; beat in flour and salt just until combined.
With rubber or silicone spatula, fold egg whites into almond mixture, one-third at a time, until combined.
Remove one third of batter (about 1 1/2 rounded cups) to a small bowl. Remove half of remaining batter to another small bowl. You should have equal amounts of batter in all three bowls.
Stir red food coloring into one bowl of batter (5 drops for pastel, 20 drops for dark color).
Stir green food coloring into second bowl of batter.
Leave the third bowl uncolored.
Spread batter into the three pans (one color per pan). With offset metal spatula, spread batter as evenly as possible; each layer will be about 1/8" thick.
Bake layers 10-13 minutes, rotating pany halfway through cooking time, until layers are just set. Watch closely, you want this to be slightly undercooked.
Let layers cool 5 minutes in pans on wire racks. Invert layers onto racks; leave waxed paper attached; cool completely.
When all 3 layers have cooled, place green layer on a platter, remove waxed paper; spread with half of the apricot preserves. Place white layer on top of the green layer, waxed paper side up; remove waxed paper. Spread with remaining apricot preserves. Place red layer on top of white layer; remove waxed paper. Press down gently over entire surface to make sure all layers are firmly attached to each other.
With a serrated knife, trim edges about 1/4" from each side (cooks' treat). Spread melted chocolate on top of red layer (not on sides). Refrigerate at least 1 hour.
Cut layers lengthwise into 6 strips. Cut each strip into 12 small rectangles.
Store cookies in refrigerator in a covered container, with waxed paper between layers.