VickyJ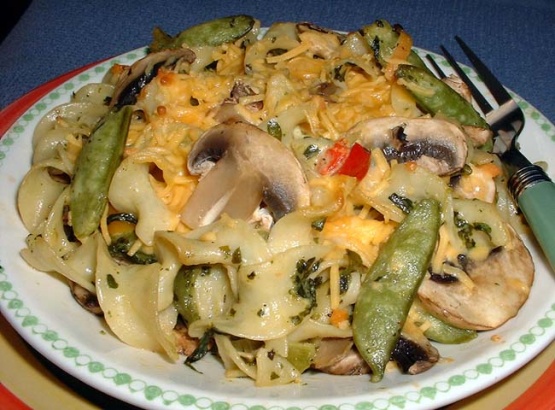 My family loves it as a non-meat meal, but you could also use it as a side dish. The vegetables used are really just whatever you like all thrown together.

This is an intensely satisfying dish. It is satisfying to make and just as satisfying to eat. I had a wonderful time choosing the vegetable that I would put into the stir-fry, it smelled wonderful while it was cooking, and it was delicious. This definitely should be filed under the category of Comfort Food! I multipled the recipe to feed 6, so used more of the ingredients and the cooking time was longer. I used zucchini, tomatoes, onions, carrot, red peppers and canned button mushrooms. The recipe assumes you have already-cooked egg noodles, if you are cooking them from scratch you should add some more time for cooking. Making this dish from scratch is just a tiny labor-intensive, chopping the vegetable into tiny bits, grating the cheese, stirring until the vegetables are tender. However, you could make this very quickly using fresh pasta, pre-cut veggies and pre-grated cheese from the supermarket. I also found that a dash of salt and pepper was not enough flavor for our family, so I added about a tablespoon of mushroom soup powder. If you are following the recipe for 2 servings, I would suggest about a teaspoon of the stuff. I also added a healthy dash of paprika. MG, this was a pleasure to make and even more of a pleasure to eat. I'm so glad I made lots, because now I have something wonderful to take to work tomorrow for lunch!
2

teaspoons margarine

1

cup finely chopped vegetables (I use broccoli, squash, carrots, onions, but use whatever you want)

1

clove garlic, minced

1

cup sliced mushrooms

1

dash salt and pepper

1

cup cooked egg noodles
1⁄2 cup buttermilk

2

teaspoons chopped fresh parsley

4

ounces cheddar cheese, shredded
In a 9 inch skillet that has a flameproof or removeable handle, heat margarine over medium heat until bubbly and hot.
Add vegetables (except mushrooms) and garlic.
Saute until vegetables are tender, about 5 minutes.
Add mushrooms, salt and pepper and continue sauteing, stirring constantly for about 2 minutes.
Add egg noodles, milk and parsley and stir to combine thoroughly.
Sprinkle with cheese and transfer to broiler.
Broil until cheese is melted.