Vegan Pizza - Curry, Sweet Potato, and Rocket
KristinV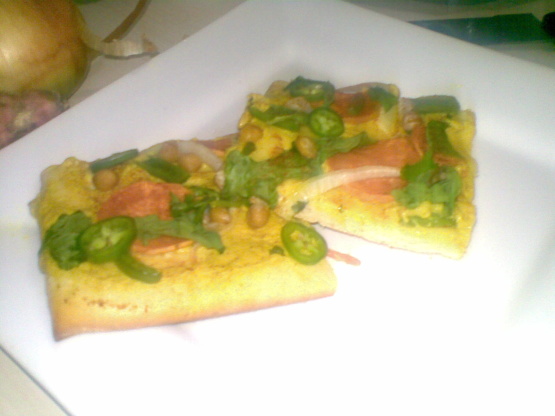 I was on my way home one night dreaming of pizza. I wanted something other than capsicum, mushrooms, olives and soy cheez and I wanted a hint of heat too. This is what I came up with! This makes one medium pizza and I imagine that omni's would like it too.

Healthy Food.Keep posting like this.like to see it.
TO MAKE CURRY SAUCE.
Melt margarine in a small saucepan and remove from stove.
Stir in flour and curry powder until smooth.
Return to stove and gradually add the soy milk, stirring continuously until thickened. Place to the side.
TO MAKE PIZZA.
Pre-heat oven to 230°C.
Mix the oil and garlic together and spred onto the pizza base and then spread the curry sauce evenly over this.
Lightly steam the sweet potato until just tender (I use a steamer bag in the microwave for 45 secs) and then place onto the curry sauce base.
Follow with chickpeas, onion, rocket and capsicum.
Place in oven for 8 minutes for pre-prepared pizza (as per instructions for homemade).
Upon removal, evenly distribute coriander and chilli (if using) over the top of the pizza.