Vegan Double Chocolate Strawberry Muffins
BB2011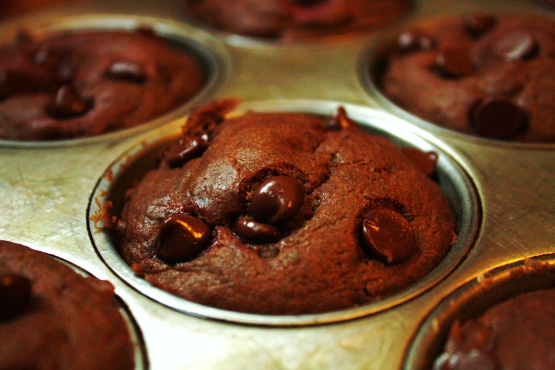 I developed this recipe with the goal of making a sweet, chocolatey treat with some strawberries I picked. I had frozen and thawed the strawberries, but you can use fresh if you wish. The muffins use techniques that you will probably recognize from brownie recipes, so they are really a cross between muffins and brownies.

Really good recipe! I made a couple of substitutions (which made them non-vegan) but they still turned out great. I substituted 1/4 of the flour for coconut flour, used dairy milk, and instead of the egg substitute I used 1 egg and 1/4 cup apple sauce. For the chocolate I used a 100g block of Lindt 70% cocoa. I melted 1/3 the block with the butter and broke the rest into pieces that I pressed into the top of each muffin. Loved the way the muffins popped right out of the muffin tin so easily. Couldn't wait for them to cool, so I had one while still warm served with chocolate ice cream. So yummy! Thanks for sharing :)
Preheat oven to 350°F Grease 12 muffin tins with nonstick spray.
In a large bowl, combine the flour, cocoa powder, sugar, and baking powder.
Melt the margarine and 1/4 cup of the chocolate chips carefully in the microwave. While this mixture cools, mix the egg replacer, vanilla, oil, and soymilk in a separate bowl. Add the margarine-chocolate chip mixture to this bowl once it has cooled for a couple of minutes.
Combine the wet and dry ingredients. Make sure the batter is cool, and then stir in 1/2 cup of the chocolate chips.
Spoon the batter into the muffin tins. Make sure strawberries are washed and cored, and press one into the center of each batter-filled muffin tin. Cover completely with batter.
Sprinkle the remaining 1/4 cup of chocolate chips evenly over the batter and gently press into the tops just enough to hold them in place.
Bake for 25 minutes. Let cool for 20 minutes, then gently remove from muffin tin.