Veal Liver With Onions & Bacon
Prep 20 mins
Cook 20 mins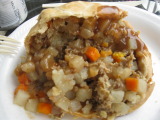 Most people don't like liver because they've never had it prepared properly. The secret to making GOOD liver is to cook it over a medium high heat & to NOT overcook it! I prefer using Veal Liver, but Calf's liver works just as well...avoid regular beef liver due to it's bitterness.
Directions
Drain and rinse liver in cold water of all blood.
Slice bacon in half and lightly brown in a heavy skillet -- cast iron is best.
Add the sliced onion and cook until all is lightly brown, making sure that the bacon doesn't get too crisp.
Remove bacon and onion from skillet; set aside and keep warm, reserving bacon grease.
Put flour in a sealable bag or container.
Dredge the liver, making sure all of it is coated well.
Melt the butter in skillet.
Place liver in skillet & LIGHTLY season with Lawry's Seasoned Salt.
Brown S-L-O-W-LY, until all has turned a nice golden brown, being careful NOT to overcook -- cook in batches, if needed.
Remove to warm plate/platter and top with bacon/onion mixture.
Serve with Recipe #331767 and gravy.
Reviews
Most Helpful
Super recipe! I've made this 3 times in 3 weeks and we love it! I used calves liver and followed the recipe as written. It's the best liver I've ever made. Thanks for posting a true keeper!