BarbryT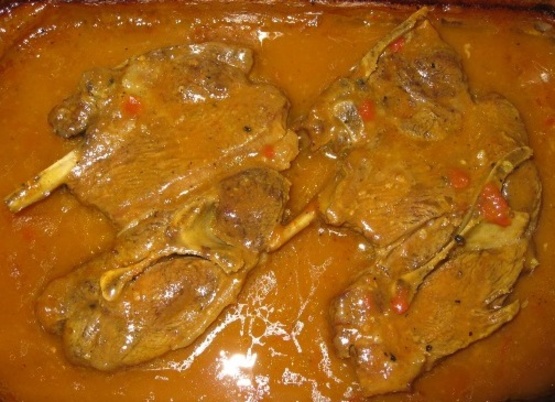 Very simply curried chops. This is a recipe that my Mom always made when I was a kid. We are not sure who Uncle Percy is. Shirley, who gave this recipe to my Mom, doesn't have an Uncle Percy so we are not sure. I recently got her to send it to me again as I wanted to make it. Preparation time does not include the marinating time of approximately 1 hour.

Just delicious! The next time (and there will be a next time!) I will add at most a cup and a half of water to the other marinade ingredients...it was too watery for my taste with 2 cups. I also will use a much larger cooking dish so the marinade/sauce will cook down in the amount of time specified. I had to cook mine at least a half-hour longer to get a sauce that had any body. All this aside, the taste is outstanding. Update and a five-star rating. Leftover these are even better....just scrumptious.
Trim fat from chops.
Crush garlic.
Combine all the ingredients except chops.
Put chops in a baking dish.
Pour combined ingredients over chops.
Let stand for at least one hour.
Bake in oven (150 C-160C) or (300-325 degrees Fahrenheit) uncovered for approximately 1 hour or until chops are tender.
I serve this with rice and steamed veggies.