Boomette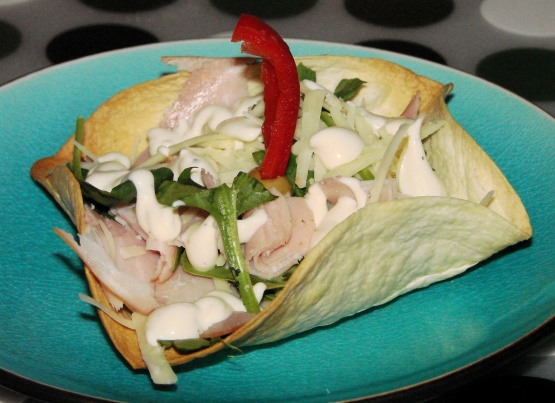 a healthy salad , made in a curved tortilla shell, with a red pepper slice as the umbrella handle.
Place six (10 ounce) custard cups upside down in a shallow baking pan and set aside.
Brush both sides of tortillas with butter, place in a single layer on ungreased baking sheets.
Bake uncovered at 400 degrees for 1 minute.
Place a tortilla over each custard cup, pinching sides to form a bowl shape.
Bake 7-8 minutes or until crisp.
Remove tortillas from cups, and cool.
Combine spinach, ham, mushrooms, cheese, and onion, place about 1 cup in each bowl.
For the umbrella handle, cut off a curved end from each red pepper slice, and insert straight end into olive.
Place in center of salad , and arrange salad ingredientsto hold handle upright.
Serve with dressing.