CJAY8248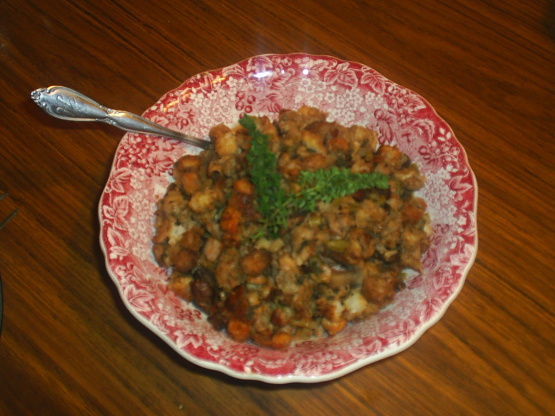 A recipe developed on the fly for Thanksgiving 2008 when there was a disagreement about how the stuffing should be prepared; I wanted savory, everyone else wanted sweet. At the end of the day, there was less of mine to put away. The rich earthiness of this dish is a nice counterpart to sweeter aspects of a Thanksgiving meal as well as a pleasant support for the meat, be it ham or turkey, or even tofurkey or turducken. Adjust the spiciness of the sausage to your liking.

Wonderful!! I followed the recipe as written but added 2 Tblsp. fresh sage and 1/2 tsp. granulated garlic and an egg. It took the full amount of broth to get it to the consistency I wanted. It was very tasty and a big hit with our meal tonight. I loved the addition of mushrooms. I will definately make this again. Thanks for sharing. Made for PAC Spring 2010.
If the sausage is link and not bulk, remove the casings and mince. In a large skillet, brown the sausage and drain away the fat.
Return the meat to the pan, and add the butter, mushrooms, celery and onion; saute for 2-3 minutes or until onion is tender.
Stir in the spices.
Do NOT drain away the butter and sweat from the vegetables. Put the croutons in a large bowl and fold the contents of the pan in, giving the croutons some moisture.
Add the broth about a quarter cup at a time, otherwise the stuffing will turn to mush. Taste the mixture from time to time; if the consistency and flavor seem right to you, stop adding the broth.
Place the mixture in a 2-quart baking dish. Cover with foil and bake at 350F for 30 minutes.
Uncover and bake for 20 minutes more.