Twice Baked Potatoes With Mozzarella, Tomato and Basil
gailanng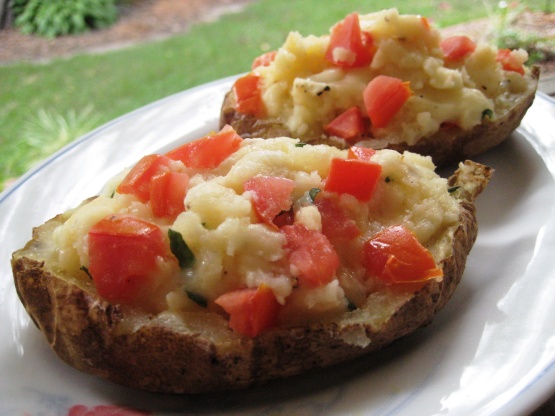 I love this flavourful variation on the usual twice baked potatoes. It looks bright and colourful too. The pine nuts provide a lovely nuttiness and texture but they can be left out if they are not to your liking.

In a word: DELICIOUS. Wonderfully creamy, so flavoursome, and we loved the crunch from the pine nuts. I followed Karen Elizabeth's suggestion and added some basil pesto and 'cos I just have to include garlic, I added a heaped teaspoon of minced garlic in step 6. We enjoyed these with Recipe #381211 and Recipe #121093, which prompted me to think that next time I make these I'm going to try them with mushrooms instead of tomatoes. They'd also be great with spinach. Thank you so much for sharing this fabulous recipe, which I look forward to playing with some more. Made for PRMR.
Preheat the oven to 350°F or 180°C.
Bake the potatoes in the oven for about an hour, until the skins are firm and the centre is soft.
Meanwhile, chop the cherry tomatoes into eighths and set aside. Add the grated mozzarella, chopped basil and pine nuts.
When the potatoes are cooked, remove from the oven. Halve them lengthways and scoop out the majority of the flesh with a spoon. Be very careful not to tear the skin- leave a quarter inch of flesh still in the skin to provide a firm shell.
Lightly mash with a fork the flesh that has been removed from the skins. Mix in the cream cheese. Season to taste with salt and pepper.
Add the mozzarella and tomato mixture to the mashed potato and scoop back into the shells.
Place on a foil-covered baking tray and bake for 5-10 minutes, until the filling is hot and beginning to turn golden.
Serve hot!