Tuscan Delight Soup - Bobby Flay
Prep 15 mins
Cook 40 mins

This recipe is very gourmet and is from Bobby Flay on FoodNetwork. A little work, but well worth it. Mostly vegetables and very hardy, it is even better left over! I use store-bought croutons, either Italian or Garlic/Cheese to top it off and a little Parmesan.
44.37 ml olive oil
1 large red onion, chopped
2 stalk celery, chopped
4 garlic cloves, chopped
2 large carrots, diced
113.39 g pancetta (even Deli ham will do) or 113.39 g ham, of any type, thinly sliced (even Deli ham will do)
1 small zucchini, diced
1 head cabbage, sliced
1 bunch swiss chard, washed and finely sliced
1 large potato, cut into 1/2 inch cubes
946.36 ml water
473.18 ml chicken stock
3 medium tomatoes, seeded and diced
1 bouquet garni (rosemary sprigs, 4 thyme sprigs, 1 bay leaf, bunch parsley)
396.89 g can cannellini beans
236.59 ml spinach leaves, washed and coarsley chopped
salt and pepper
Directions
Heat oil in a 4 quart pot; add the onion, celery, garlic, carrot and ham and cook until soft.
Add the cabbage, chard, potato, zucchini, water, broth, tomatoes and bouquet garni.
Bring soup to a gentle simmer and cook for 15 to 20 minutes.
Place half of beans (1-1/2 cups) in a food processor and process until smooth.
Add the puree and the whole beans to the simmering soup.
Simmer the soup for about 5 minutes.
Add the spinach and cook for another 2 minutes.
Season with salt and pepper to taste.
You may adjust the consistency by simply adding more water.
Ladle the soup in bowls, garnish with croutons and cheese.
Reviews
Most Helpful
This was a really pleasant, hearty soup. I was able to use up plenty of my summer harvest in this recipe! I made this exactly as posted, chopping the pancetta finely, but did not add any croutons at the end. It also makes a lot! This soup is just full of healthy, flavorful ingredients and is great if you have the time.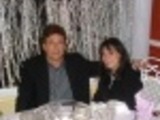 This soup is very labor intensive if you chop everything by hand like I did - but it is well worth it. I used pancetta and roma tomatoes. The spices are subtle and just right. I chopped the pancetta even though it didn't say to but I couldn't see the whole slices in the soup. I didn't add croutons & Cheese at the end just served with Savory rosemary & Parmesan crackers. I ended up with 12 lunch size servings and have frozen 10. Perfect cold weather soup- it is almost a veggie stew. Great recipe 9 Apr 2010 Enjoyed just as much this time around

I ate it but didn't love it. My 8 year old, on the other hand, loved it and asked for seconds. I added an extra star for her.