Turning Corn Tortillas Into Taco Shells
sheriboren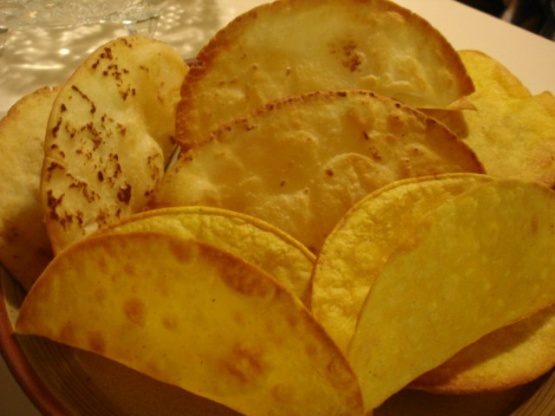 We have been doing this for years, but I didn't see a "recipe" posted for it yet, so I thought I would post it. MUCH better than those stale store bought taco shells!!!

Yum! i needed to use up a bunch of corn tortillas, and this did the trick! After the second or third tortilla, I decided to streamline the process. I used some aluminum foil that I folded into a rectangle roughly 2 inches by 3 inches and about 1 inch thick, with the other end compressed slightly. I tucked these into the folds of the tortillas and placed them in the pan, and I just used my fingertips to hold them in place for about 10 seconds (the oil was only about 1 inch deep, enough to cook one side of each tortilla at a time). Then I flipped them over, let the other side cook, and propped against a nother long rectangle of foil that I draped with a couple of paper towels on top of a layer of paper towels. These worked perfectly- I could fry 4 at a time and not have to hold them up. I made 8 squares of foil (about the same amount total that I would use to line 1 1/2 cookie sheets), and although the foil was a little hot, I could take them out after I had flipped the currently cooking batch to get the next batch ready. Thanks for posting!
Heat oil over medium heat in a skillet.
Carefully add half of the tortilla (folded into a taco shape) and fry until golden (you will need to hold up the tortilla half the entire time.).
Using tongs, carefully flip the tortilla to fry the other side until golden (continue holding the free edge to maintain the shape).
Remove from skillet and balance the shell (Teepee style) on a paper towel until set.
Repeat, placing each made taco shell on top of the last to drain oil and set.
After they are all set, you can pile on the taco goods and enjoy!