Corn Tortillas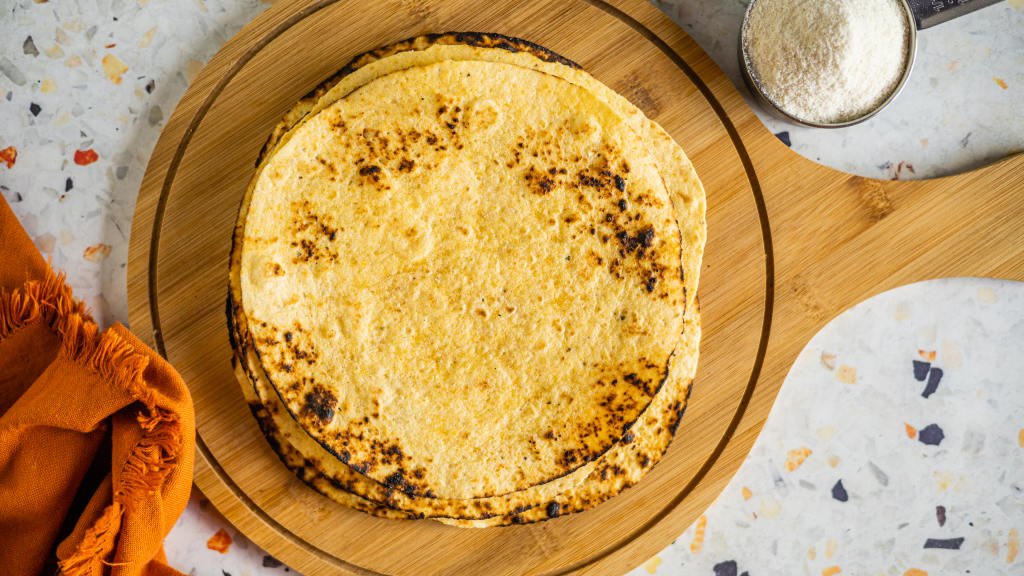 Ready In:

1hr 35mins

Ingredients:

3

Serves:

16
directions
Mix flour and salt, then add warm water.
Knead until a soft dough forms, adding more water or flour as needed.
Tightly wrap dough in plastic wrap and let sit for 10-30 minutes.
Divide dough into about 16 balls, about 1/2-inch in diameter each.
Place each ball between 2 sheets of plastic wrap or waxed paper and roll into 5-inch round using a rolling pin, heavy flat-bottomed pan or tortilla press (available at cooking. com[http://www. cooking. com/products/shprodde. asp? SKU=116136]).
If the edges of the tortilla are uneven and crumbly, the dough needs a little more water.
If the dough sticks to the waxed paper and it is very soft, add a few tablespoons of flour.
Repeat with remaining dough, leaving each tortilla between the sheets of waxed paper.
Heat an ungreased cast iron griddle or large non-stick skillet over medium-high heat.
Peel off the top sheet of waxed paper and invert the tortilla into the hot pan, quickly and carefully peel off remaining wax paper.
Cook tortilla until stiffened, about 30 seconds; turn for 1 minute or until it is lightly browned, then turn to the first side for 30 seconds.
The cooking time for each tortilla should be less than 2 minutes, do not cook until crispy.
Join The Conversation
Use parchment paper. It's sturdy, and you can leave it on the tortilla while it sets in the pan. It's only a few seconds, and it makes it easier to remove the paper. I used a tortilla press. It's not necessary, but it makes quick work of forming the tortillas and the results are uniform. (You can make the tortillas thin for street tacos or thicker, like a sope.)

 

I made these with freshly-ground dent corn. I still need to work on my technique, but this recipe is really easy and the results are great. I didn't have any wheat flour ready (the downside of grinding my own flour), so when I discovered the dough was too wet I used a little rice flour. Next time, I hope to make these with just corn. (I need to remember to grind a little extra.)