Pneuma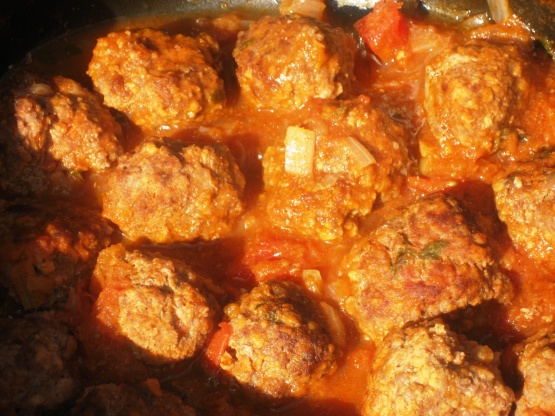 These are different from your "same ole, same ole" meatballs. The spices make the difference.

My biggest complaint about this recipe is that there's no way it makes 8 servings. Two little meatballs would maybe be something you would serve as an appetizer. I wish I had realized that before I went to the trouble. It took a bit of prep. The recipe was easy to follow. It did have a nice flavor. If I make this again it will be doubled at least.
Mix the meat, bread crumbs, parsley, nutmeg, onion powder, salt, pepper, egg and water.
Form the mixture into meatballs and brown in broiler until golden brown.
Steam the tomatoes and onion.
Put the meat, steamed tomatoes and onions and all remaining seasonings into a pot along with the tomato juice. Cover tightly and simmer gently for 30 minutes.
Yield:16 meatballs. One serving equals 2 meatballs.