Drebaby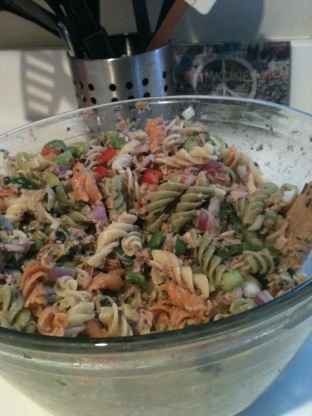 This recipe is great for those of us that "eyeball" (as opposed to measuring) ingredients. Very healthy, heavy on the veggies and lots of good fat from the E.V.O.O. This salad is ideal for camping, the beach, pot lucks, packed lunches, picnics, etc. as it has no mayo and therefore travels gracefully. Not to mention it is DELICIOUS. Try this salad- you will be addicted instantly and your body will thank you for it!!
DRESSING

1

lemon, for zest and juice

4 -6

garlic cloves, minced, crushed, pressed, whatever is your method
extra virgin olive oil (I probably use 1/3-1/2 C. when I make this)
1⁄2-1 bunch basil, finely chopped
salt and pepper

SALAD

1

(12 ounce) packageuncooked pasta

2 -4

stalks celery
1⁄2 red onion

1

cup sliced pepperoncini pepper (more or less ( )

1

(13 7/8 ounce) can (chopped or 1 small sliced olive)

4

(6 ounce) cans tuna (in water or oil, drained)
Cook the pasta according to directions, drain, and set aside (I cook them while I chop the veggies). Zest the lemon into the bowl. Squeeze the lemon's juice into the bowl (tip: zap the lemon in the microwave for 5 seconds and then roll it on the counter with your palm to get more juice out of it). Add the garlic and basil. Add the olive oil (I base my "correct" amount of E.V.O.O. based on the consistency of the dressing- I like it to be about the consistency of salsa). Whisk everything together (and take a big whiff while you're at it- you'll think you've died and gone to heaven). Start chopping the veggies as chunky or fine as you want. Throw them in the bowl with the dressing as you go. When you're done with the veggies, add the pepporicini slices and olives. Then add the well drained tuna and mix everything together just until the dressing is totally incorporated. Now is a good time to adjust the seasonings and/or olive oil, so take a taste test and make your additions (or don't) accordingly. Finally, when the pasta is reasonably cool, add it in gradually and mix thoroughly (and as gently as possible). Let it chill in the fridge for a couple hours and enjoy!