Kathy228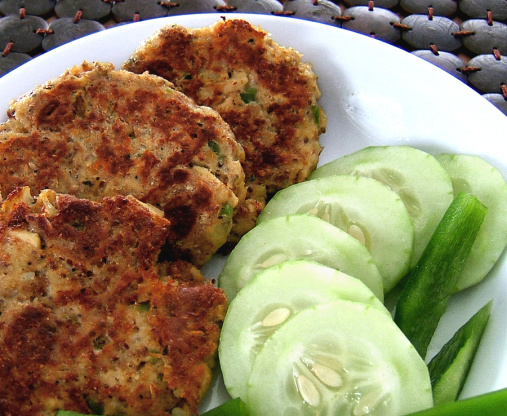 Tuna patties are milder than salmon. And the flavor of the other ingredients shine through the tuna. Serve them on a plate with pan-fried potatoes and sliced tomatoes and avocados. Or in a toasted pita with lettuce, thin sliced tomatoes and a touch of mayo. Don't forget a handful of potato chips.

The flavor wasn't too bad but the bread gave this a definite "mushy" texture -- sorry, not to our liking. Won't be making this one again. Thanks for sharing, though, Kathy.
Into a small bowl, tear-up the bread and soak in 2 tbsp milk for a couple minutes. Set aside.
In a mixing bowl, thoroughly mix all ingredients together (except oil and Panko).
If the mixture feels too wet, add Panko a tbsp at a time, until you can form soft balls.
Heat 2 tbsp olive oil in a frying pan.
Form tuna mixture into patties and fry for 5 minutes until golden brown.
Carefully flip the patties. Add more oil if necessary and brown the other side for 5 minutes.
Drain on paper towels and serve after a 4 or 5 minute rest.