JustJanS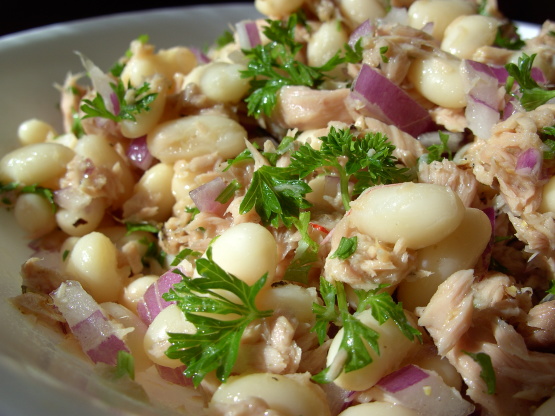 An all-time favorite Italian salad, this won't take long to make and is great for lunch.

Top Review by Sphinx
This was really easy. I used a can of Great Northern Beans as per what I had and a yellow onion instead of red. I found this recipe when searching for oil packed tuna recipes. (I bought oil by mistake!) I used cilantro in addition to parsley and used rice vinegar instead of white wine. I took the tuna/bean salad and put it on sour dough bread (mustard optional) with some cheddar cheese on top and toasted it for an easy open face tuna melt. I love tuna but I don't prefer mayo so this was great for me. The kids were not too impressed... but me and DH loved it. I guess it's not really a kid food :-) I also made hard boiled eggs to go with the dish. The eggs on the side went with the rest of the meal nicely (and the kids will actually eat those.) I want to try this again with some pine nuts and basil. I'll look forward to that variation for next time.
Mix all the ingredients together and serve.