Tsumire - Japanese Nabe Meatballs
gemini08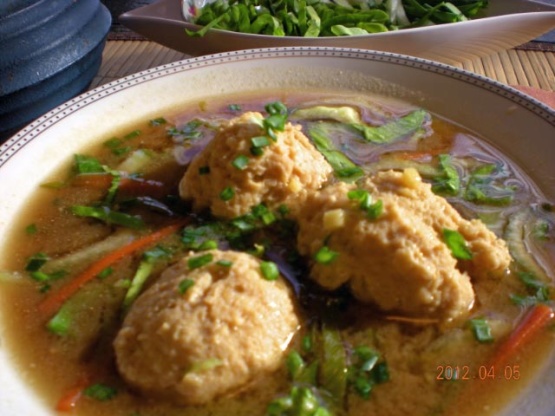 I put down measurements for all the ingredients, but in reality I don't measure. I just guesstimate based on whatever amounts of ingredients I have. I'm not sure if the amounts are correct, so use common sense as to how much is reasonable. Use lots of ginger.

Loved these meatballs! I used ground chicken, 2 Tsp of flour and one Tbsp of panko and and let the mixture rest in the fridge for @ an hour, then cooked them in miso broth. They held together very nicely without being heavy or dense. Next time I'll try them with pork. Made for PAC spring 2012.
Mix the sake and miso to dissolve the miso.
Add all ingredients to a medium bowl and mix well. Be careful not to add too much flour/starch or the meatballs will be tough, but you'll need to add enough to keep them from falling apart in the nabe broth. You may want to cook a test meatball to check the taste/texture.
Drop by spoonfuls into the boiling nabe broth. They won't be perfectly round because the mixture should be too soft to form them into perfect balls.