Triple Layer Chocolate Mousse
Cuistot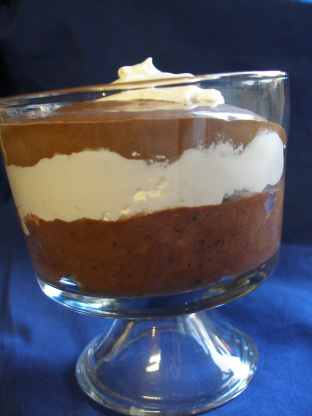 Have arm strength for this recipe, but well worth the effort to make them.
Time consuming but worth it! It was very chocolaty!! I could not find choco cool whip so used regular with some grated chocolate mixed in. It didn't turn out pretty since I did individual cups so the layers were not even in all the bowls. Will make again, but will get a larger trifle bowl to layer it all in one. Made for PRMR.
SOFT MOUSSE: Melt chocolate over simmering water of a water bath.
Whip egg yolks with 1/3 cup powdered sugar until pale and airy, place whipped yolks in medium sized bowl. Add warm melted chocolate and fold until just mixed. Wash bowl and wipe thoroughly.
Dissolve 1/3 cup granulated sugar and 1/4 cup water in small pot, bring to a boil, cook to 230 degrees on a candy thermometer.
While sugar is boiling slowly whip whites to soft peak. When sugar is ready, slowly pour into whites while beating at a medium speed in a steady stream. Continue to whip until stiff peaks form. Spoon whites on top of yolks but do not fold.
Whip cream and 1/3 cup powdered sugar until medium stiff peak, now fold in whites until just mixed. Add cream and fold until incorporated. Do not over fold. Store in refrigerator until ready to use (should be used as soon as possible).
SOLID CHOCOLATE MOUSSE: Melt chocolate hot, over double broiler (do not burn chocolate), heat until it is warm to the touch. Whip cream until very soft peaks form (lines show in slightly whipped cream).
Very, very quickly add chocolate to cream and fold in, mixture may look broken but keep folding until everything is smooth, but do not overmix. Place in bowl, cover and refrigerate until set.
TO SERVE: Place the two mousses in composition to contrast each other. Garnish with chocolate cool whip.