Bergy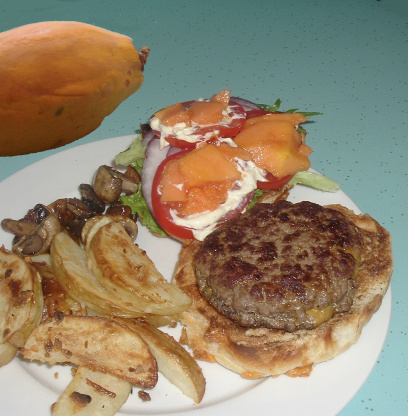 This is our favorite of many wonderful burger recipes found in "Burger Meisters", a cookbook put together by Marcel Desaulniers. If you like this or prefer burgers with other types of meats (fish, rabbit, turkey...) you may want to check out the recipe book.
In a 5-quart stainless steel bowl, gently but thoroughly combine the ground beef with the Worcestershire sauce, thyme, cumin, and cayenne pepper.
Gently form the ground beef mixture into eight 4-ounce, 3/4-inch-thick patties.
Use a metal spoon to make a small indentation in the center of 4 of the beef patties.
Combine the onions and cheddar.
Divide this mixture into 4 equal portions and place a portion in each indentation.
Top with another patty and gently form into a burger, making sure to seal all open edges.
Season the burgers with salt and white pepper.
Cover the burgers with plastic wrap and refrigerate until needed.
Grill the burgers over a medium wood or charcoal fire.
Cook to the desired doneness: about 5-6 minutes on each side for rare, 6-7 minutes on each side for medium, and 9-10 minutes on each side for well-done.
(This burger may also be cooked on a well-seasoned flat griddle or in a large nonstick saute pan over medium-high heat. Cook for about the same amount of time as listed for grilling.) Remove the burgers from the grill.
Toast the buns, cut side down, on the grill or griddle or in a nonstick saute pan until golden brown, about 1 minute.
Spread 1/2 tablespoons.
mayonnaise onto each burger bun half.
Place 1 of the lettuce leaves on the bottom half of each bun, then top each with a burger, 2 of the tomato slices, 2 of the papaya slices, and the top half of the bun.
Serve immediately accompanied by"Trini Tropical Fruit Salad".