April D.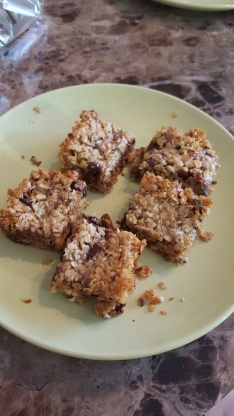 Homemade trail mix bars are both salty and sweet. They'll be a hit with the whole family.
Homemade granola bars. I kinda just threw a bunch of stuff together and they came out great. So I'm going to share the recipe. These are also gluten free ( I use gluten free oats).
Preheat oven to 350 F.
Mix all ingredients in a bowl until well combined. Press into a parchment lined 9x13 pan. Bake for 18-20 minutes or until edges start to brown. Remove and let cool. Cut into bars or squares.
(TIP: Leave a lip of parchment paper over the bars so when you remove from pan to cut you can just lift out with the parchment).