Annacia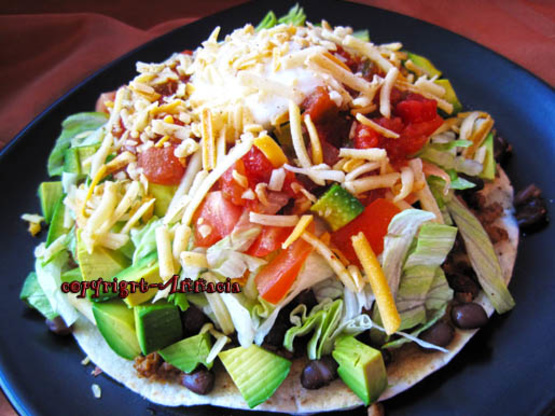 This recipe is from the 1981 Southern Living Cookbook.
This was super quick and easy to make, so it was perfect for a busy weeknight dinner. I doubled the spices for the meat and also added some cumin and black pepper. Instead of the kidney beans, I used refried beans to which I added some salsa. I put the refried beans on the tortilla first, followed by the meat mixture, the vegetables, 4-cheese Mexican blend, sour cream and taco sauce...yum! Thank you for sharing this wonderful recipe.
**Made for 2012 Football Pool**
Combine ground beef, onion and garlic in a skillet; cook until bef is browned, stirring to crumble meat. Drain off pan drippings. Stir in chili powder and salt; set aside.
Heat beans in a small saucepand over medium heat; drain off liquid, and set beans aside.
Fry tortillas, one at a time, in 1/4 inch hot oil (375 degrees) 20 to 30 seconds on each side or until crisp and golden brown. Drain on paper towels.
Spoon meat mixture, beans, tomatos, lettuce, avocado, and cheese on warm tortillas. Serve with taco sauce and sour cream.