Tortellini in Broth With Cheese Crisps
Nif_H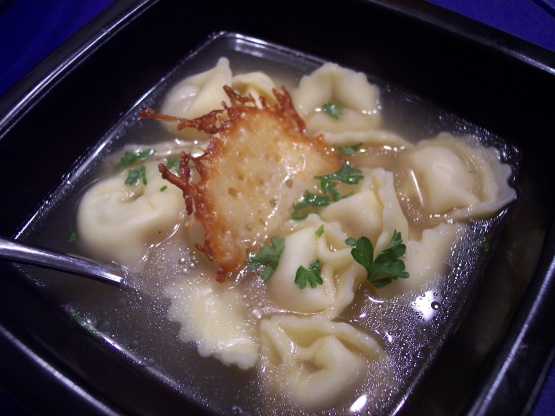 This is a super easy recipe from Giada De Laurentiis of the Food Network that will impress everyone when you present this yummy soup with delicate lacey cheese crisps! :)

Top Review by Nif_H
So easy and so tasty! I really liked the crisp, but it was soft as soon as I put it in the broth. I have never had tortellini served in broth before, but it is very good. Make sure that you use a good quality broth! Made for my adopted chef for Fall Pac 2009. Thanks! :)
Parmesan Crisps:Preheat oven to 400 degrees F.
Pour a heaping tablespoon of Parmesan onto a silicone or parchment lined baking sheet and lightly pat down. (A silicone baking sheet works better).
Repeat with the remaining cheese, spacing the spoonfuls about a 1/2 inch apart (make sure you make at least 8-10 heaps for at least 8 crisps).
Bake for 3 to 5 minutes or until golden and crisp.
Set aside to cool.
Soup: While the crisps are cooling, pour the broth into a heavy large saucepan.
Cover and bring to a boil over high heat. Season the broth with pepper, to taste.
Add the tortellini.
Simmer over medium heat until al dente, about 7 minutes.
Ladle the broth and tortellini into soup bowls.
Garnish with parsley and top with Parmesan crisps just before serving.