Top-Rated Reuben Sandwich
gailanng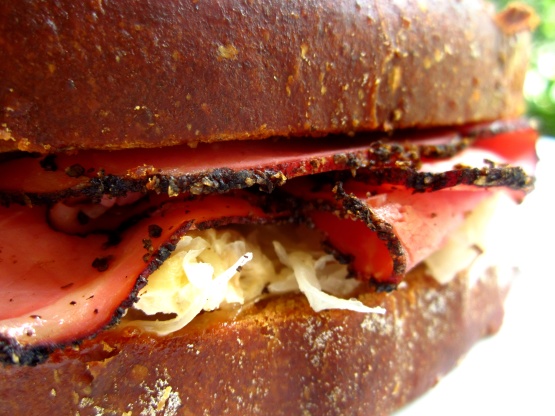 The Reuben is the epitome of the great deli sandwiches... every ingredient is important as well as how it's prepared. This is how we make our own Reuben, and we've been told it's the best in the Northwest. It takes making your own ingredients in several cases, but we certainly feel it's worth the trip, as have our fans.

Made your delicious Reuben sandwiches for lunch today. Used your Louie dressing and made them in my panini maker. Will definitely makes these sandwiches again. Made for Spring PAC, May, 2014.
Preheat your grill to about 325 degrees F. (That's just about medium for many burners, but it also depends on if your stove is gas, electric, glass-topped, or a number of other factors -- experimenting is the surest way to find out.).
Spread outside of each slice of rye with soft butter, about 1 Tbls per side (Scrape it thin -- too much butter makes browning more difficult and reduces crispness.).
Place bread on grill butter side down, and put 1 slice Swiss on each side.
Pre-heat the corned beef on a very low setting in the microwave or heat it briefly on the grill, but DON'T OVERCOOK! You want to heat, not dry out. Layer the corned beef on 1 side.
Heat sauerkraut on grill, but do not brown. When it steams, it's ready.
When cheese melts, remove sandwich from heat.
Spread Louie Dressing onto side with cheese only. (This stops it from soaking into the warm bread and making it soggy.).
Put sauerkraut onto corned beef & roughly make an even layer.
Close sandwich, salt if you like (we do) and cut as desired. (We served it with a homemade dill pickle spear and a bit of salad.).
Serve it hot!