Bergy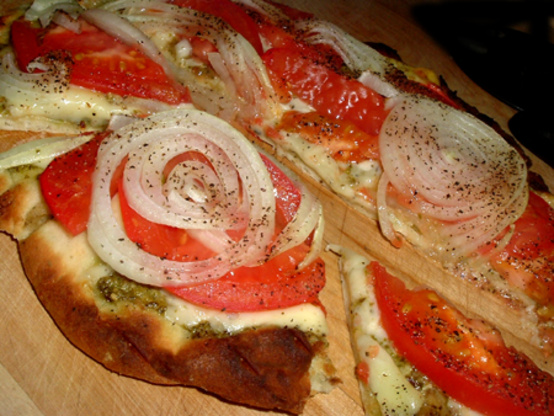 Pizza style, single serving, wonderful freshly harvested, vine ripened tomato slices and pesto--Nummy!

We had this as a side dish to a vegetarian meal, I know I will make this again, but also for lunch or as a snack.Good flavors and one of the few times that pesto from a jar works really well.It also was put together in minutes, I used round pita bread for it and they looked like little mini pizza's,I did add some fresh garlic, olives and a drizzle of olive oil, simply because I like those ingredients and I was sure it wouldn't damage the recipe.
1

pita bread (6 inch) or 1 flat bread (6 inch) or 1 English muffins (6 inch) or 1 split crusty roll (6 inch)

1 -2

tablespoon store bought pesto sauce

2

tablespoons shredded cheese, your choice (parmesan, cheddar, mozzarella, etc.)

2

slices thick large freshly harvested tomatoes

1

dash salt

1

slice onion, very thinly sliced
Spread pesto on flatbread, English muffin or split crusty roll.
Top with your favourite shredded cheese.
Add thick slices of tomato; sprinkle with salt and freshly ground pepper.
Top with thinly sliced onion.
Broil about 6 inches from heat until tomato is soft and cheese is melted.
About 5 minutes.
Serve immediately.