Parsley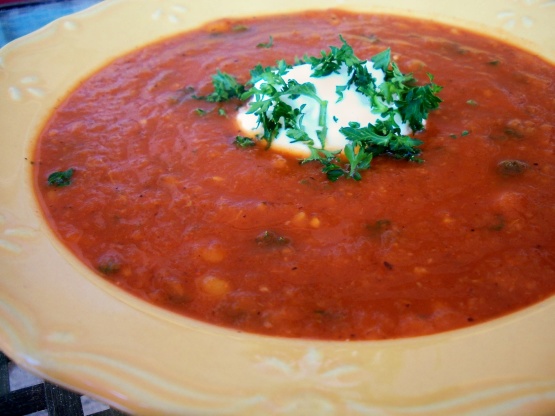 While researching Sumac for the NA*ME Forum, I stumbled across this recipe. YUM! The secret ingredient is sumac. Sumac is a sour spice used almost like salt in some parts of the Middle East. It's also an ingredient of za'atar, a table seasoning frequently sprinkled on flat breads.

Top Review by Cat19
This soup is absolutely delicious! I served it thick over kateh (persian basmati rice), with a garnish of fresh spinach steamed with sauteed onions and garlic. Had to have seconds. I froze part, will see how it does after a stint. I think this soup could be a base for endless possibilities. With a change to veg stock, I definitely will serve it to my vegetarian friends!
Heat the oil in a soup pot over medium heat. Add the onion, celery, and carrot, and cook until softened (a few minutes). Add the garlic, then, in a minute add the tomatoes and stock.
Simmer for about 20 minutes, season, and let it cool.
Puree the soup, then strain back into the pot. This removes tomato skins and most seeds.
Add the lentils and return to a low simmer.
Taste a lentil in about 15 minutes to see if it's tender. If not, continue cooking, but don't let them get mushy.
Add the sumac and parsley. Taste for seasoning and add lemon juice if you like.