Prep 20 mins
Cook 30 mins

These colorful stuffed vegetables make a delicious and beautiful accompaniment to virtually any main dish or they can be simply eaten for a light summer dinner. This recipe was created for RSC #7!
Directions
Preheat oven to 350 degrees.
Cut off the tops of the large Tomatoes (set tops aside) and scoop out the insides; put all juices and pulp into a food processor or blender and puree; set aside.
Cut the tops off the Bell Peppers (set tops aside), remove the innards and parboil the Peppers 4 to 5 minutes.
Mix Salt and Brown Sugar together and sprinkle on the insides of the peppers and tomatoes.
Heat 1/8 cup of the oil in sauté pan over medium heat; add Onions and cook until translucent: add Garlic, Orzo, ¼ cup hot water, Chopped Dates, the Tomato Puree, Cinnamon, Parsley and Mint; reduce to low and simmer uncovered until all liquid is absorbed (6-8 minutes).
Put empty Peppers and Tomatoes in a small casserole or baking dish, letting them touch for support; loosely fill Peppers and Tomatoes with the Orzo mixture, sprinkle with Parmesan Cheese or Feta and Nuts (optional) and replace tops.
Pour 1/3 cup Hot Water into the dish; spoon the remaining Oil evenly over vegetables; Bake for about ½ an hour; occasionally basting with the juices.
Serve hot or at room temperature.
Reviews
Most Helpful
I made these last night to go along with a steak dinner and they were a hit. These are a winner in my book and we will make them often. Great blend of flavors!

Beautiful when made.These looked great a excellent side dish .Kind of reminded me of mary poppins...perfect in every way.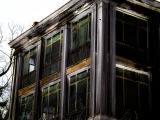 We loved this creative, taste sensation for a lovely lunch. The sweet/savory combination was what intrigued us and the chopped mint really made the dish special. Other than adjusting some of the cooking times to accomodate the size of my vegetables, I followed the easy to understand instructions and got perfect results. I can't wait to make this as a starter for my next dinner party. Congratulations to the chef for an excellent recipe.