Tomato Chilli (Chile) Jam
Peter J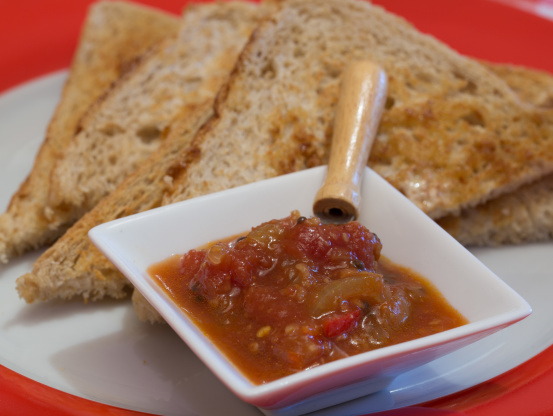 Chilli jam is a very popular item in Australia. My hubby even likes it on his vanilla and/or chocolate ice cream. I finally came up with this recipe -- that is easy-to-make, and not too hot and not sweet. The fish sauce gives the flavour an Asian twist. As an aside, my tablespoon is equal to 3 teaspoons. For a hotter result, you can leave the seeds in the chillies, or simply use more.

Peggy, you have a winner here!!! About 4 years ago, I wanted some condiments and paid $20 for two jars. I found they were long on liquid and thickener and short on named ingredients. I decided then and there that even though we were travelling I could make my own and so I have. This one is wonderful, made with ingredients that even a caravanner had on hand. I didn't know if you used brown or yellow mustard seeds so mixed them and my tinned tomatoes were so ripe, they just went to mush so I decided I wouldn't need to blitz the finished jam. My tomatoes were 69c, the onion 20c, I got given the chillies and oil, so I reckon THESE cost me under $2. Oh and they are super quick to make and have made the caravan park smell great!.
Heat the oil in a two-quart saucepan. Add mustard seeds and cook until they pop.
Add onion and stir for about 30 seconds, then add all other ingredients.
Bring to a boil and cook for 15-20 minutes. Keep an eye on it and stir frequently. You don't want it to burn.
When the jam has thickened to your preference, turn off heat and allow to cool for 10 minutes. Then zap with a stick blender to puree it slightly. You want it to stay on the chunky side.
Bottle and store in the fridge. Use within two weeks. I find it improves with age.